The announcement took place on the UNESCO World Heritage listed Cockatoo Island / Wareamah, where the funding is most needed. Over $21 million of this funding will be focused on Cockatoo Island, the largest allocation.
Before the announcement, Minister Plibersek was taken on a tour of the island by Harbour Trust representatives to see the sites of concern and the conditions they are in.
Joseph Carrozzi AM, Chair, Sydney Harbour Federation Trust said:
'I am delighted that Minister Plibersek has announced this new funding which will support our work in conserving and protecting our extraordinary places. This funding will be vital in ensuring our sites can be open and accessed by all Australians.'
Janet Carding, Executive Director, Sydney Harbour Federation Trust welcomed the new funding and said:
'We are very pleased to have the strong support of Minister Plibersek to eliminate a critical backlog of repair works. The Harbour Trust is now the permanent custodian of these special places of cultural and historical significance. This funding is needed as we develop long-term master plans to guide their careful activation.'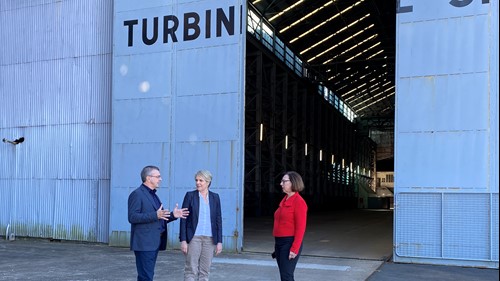 The funding will be injected over 2 years from 2023 to 2024 for the Harbour Trust to address a critical backlog of repair works across our sites including but not limited to:
Cockatoo Island / Wareamah
Conservation, restoration and remediation of the significant heritage listed docks, Fitzroy Dock (1857) and Sutherland Dock (1882 -1890)
Seawall repairs on the Northern and Southern Aprons of Cockatoo Island to address degradation of the current seawalls and to address public safety
End-of-life structural repairs including the Camber and Patrol Boat wharves
Remediation of buildings to address hazardous materials to ensure safety of staff and visitors
Cliff stabilisation works
North Head Sanctuary
Restoration of the heritage listed perimeter wall via repointing and associated footing stabilisation
Headland Park
Infrastructure upgrades including electrical
Woolwich Dock
Dockyard cliff stabilisation works
Sub Base Platypus
Cliff stabilisation works
Over 1.9 million visitors visit our extraordinary places each year to learn their rich stories. These include their First Nations history and continuing connection, their early colonial development and their contribution to the defence of Australia, among other stories.
The safety of our visitors remains our top priority – there are no safety issues with the current public spaces that are open for visitors. The Harbour Trust continuously monitors all our sites and closes off areas which are deemed not safe for public access. The newly announced funding will eliminate the current backlog of critical works and start the investment in new infrastructure to open areas that have been closed to the public for up to 30 years. Our sites will remain safe and open.